Aweber should be your next email marketing tool

This AWeber review could change your online success. If you have a website or blog, then you should be invested in email marketing. It gives you the biggest payoff for the time you put into your online business. You may resonate with a few of your readers, but most people don't buy stuff the first time they hear about it, which is where email marketing comes in. If you can get their email, then you can build a relationship with them and earn their trust, which will earn you sale after sale.
AWeber is the most popular email marketing platform around used by over 120,000 bloggers, businesses, and entrepreneurs. The service has been around for almost 18 years, and it makes email marketing fun, easy, and rewarding. I've tried MailChimp, but I prefer AWeber, and I'll tell you why later on in this AWeber review. For now, let's take a closer look at what AWeber offers.
Free 30-Day Trial With AWeber
I had to mention this first thing in this AWeber review because I know a lot of people will love this. You can get a 30-day free trial. This trial is free with no strings attached. After the 30 days, you are charged $19 a month if you have less than 500 subscribers. If you can get more subscribers than that, congratulations! And, check out the pricing information below in this review. If you find that you don't like AWeber within that 30 days, then you can send them an email to prevent your first charge.
I find this offer amazing. Not many companies will give you a full 30 days to try out their service for free. It gives you enough time to learn all the features, try them out, and see how powerful AWeber is, so I think they know that most people are going to love the service and stay on after the 30 days. But, that's up to you to decide!
When You Sign Up To AWeber
The first thing you will notice is they try to sell you an eBook for $29 called 'Your First 5000 Subscribers.' It's a guide that helps you to become a successful email marketer, and if you are not already a successful email marketer, I recommend buying it! Email marketing can be tricky, and you don't want to get your first 500 subscribers and only have 10 of them open up your emails. AWeber is offering information in this eBook that helps you build your list according to their tests over the years, and you will learn how to apply these things to your own online business.
Social Warfare Plugin Review: Do You Really Need This Plugin?
You can also get a free 7-day course on what to write in your emails. I love this! Believe me, as someone who wrote some pretty bad emails in the beginning, and lost some subscribers because of it, this is something that I know will help you have more success in your email marketing campaign. You also get some fill-in-the-blank email templates, which includes thanks for subscribing emails, subscriber surveys, product benefits, and different season templates.
Other than that, you are brought to your dashboard where you can start looking around at all the features of AWeber. If you have an idea of what you are doing, you can get started, and if you don't, you can find a ton of information on the site by clicking on the 'help' button.
Features That Make AWeber Stand Out
One of the coolest features is that you can connect apps to your AWeber account. Facebook, LeadPages, ClickBank, Etsy, SumoMe, and HelloBar, are just a few of the apps that you can connect to your account. How does this benefit you? Leads! You can get more subscribers by connecting these apps.
For instance, if you have a Facebook page, you can give your fans an easy way to sign up to your list, directly from your Facebook page. Or, if you are selling items with PayPal, you can connect your AWeber account with PayPal to invite your customers to your email list. In short, it's a great way to connect what you do outside of your email marketing to your lists and gain more subscribers faster.
Another feature can help you keep your subscribers updated with your blog easier. If you blog a few times per week, then you can automate emails to send blog posts to your subscribers through your RSS feed. This is a great way to keep your subscribers updated without having to take the time to create a new email just to send out the latest blog updates. AWeber uses the RSS feed of your blog to create the email, and it works with any blog software, so it will work for you.
And, as an attractive email marketing feature, there are over 700 email templates for you to choose from. You can also import a template or you can code using their theme language. Most people will want to use one of their templates, though, as there is pretty much something for everyone.
However, if you don't find a template that fits your needs, you can get the design people at AWeber to create a custom template for you. This will help you send out emails that perfectly fit your style and brand so that you can create a consistent experience for your readers and customers. It will promote more recognition and trust and help you maintain a relationship with them as they move from your site to your emails to your social media profiles. You can modify an existing AWeber template for $29 and get the layout, font, color, and background changed, or you can have a custom template designed for $229, and have it built to match your website or brand.
Thrive Themes Review: Themes And Plugins Combine To Create Successful Websites
Another feature that is still in beta is called 'campaigns', and it is an automation platform that helps you send targeted messages to subscribers in a sequential order that makes sense to them and you. AWeber is taking this to a whole new level, though. You can also tailor your content on where someone discovered you.
For instance, if someone signed up to your list from Facebook, then they may need more information about you and what you are doing than someone who signed up through your website and got to know you a little bit. So, you can send them appropriate emails that don't annoy them and send someone who signed up through your website appropriate emails for them.
That's huge! When you can send targeted emails like that to subscribers in an automated fashion, you are making your life much easier, as well as theirs. They don't get unwanted emails, and you don't have to try and write an email that fits everyone the best. AWeber says that they are going to be adding more features and functionality to this Campaign feature, so by the time you read this AWeber review, there may be many more benefits with this feature.
One of the features that also stands out is the fact that AWeber takes measures to ensure your emails will be delivered to your subscribers. Sounds like a no-brainer, right? But, some email marketing platforms don't have the right things in place to ensure that your emails are making it to your subscriber's inbox.
The whole reason you want people to sign up is to reach out to them, so when your message is being blocked by their spam filters, and you are not reaching to them, you are both losing out. AWeber has the right tools in place to make sure your emails get through, such as Send Policy Framework and DomainKeys Identified Mail, so that the all Internet Service Providers know that your emails are coming from a trusted source.
Another profitable feature is the ability to segment your subscribers based on their actions. This way you are not sending the same broadcast emails to people who respond differently to different things.
For instance, if someone clicks on a certain link in an email, but not in other emails, it is easy to figure out what they are most interested in and then segment that subscriber out by interest. Moreover, you can segment people out based on location, where they sign up from, and even which pages your subscribers visited, which will help you create targeted segments that appeal to your subscribers and increase opens and conversions.
AWeber also has a cool feature that most business owners will appreciate. It is an app that allows you to collect email addresses from your phone. If someone is interested in you, then simply get them to add their information directly into your app on your phone and then you can contact them through AWeber with some targeted emails afterward. No more telling people where to go to sign up to you and hoping that they remember your website address or Facebook page. Instead, you get them while they are interested. This works with people you meet at business meetings, tradeshows, parties, or at the airport waiting for your flight.
StudioPress Themes For WordPress Review
You can also download the AWeber app that lets you check your stats directly from your phone. You can view your broadcasts, opens, and clicks. Years ago, I remember online business owners talking about a launch and how incredible the stats were for leads – and they were on vacation in Maui during the launch. This is the appeal of this app. You can be on vacation without a computer, open up the app to see what happened with a launch, promotion, or contest; then you can smile, turn off the app, and head down to the beach!
Benefits Of AWeber
AWeber has partnered with a bunch of useful businesses to provide advantages for Internet marketers. For instance, you can sign up to Leadpages for 60 days for only $1! Leadpages is the top landing page builder online, and you can easily build landing pages that help you collect leads for your new AWeber account! They go hand in hand.
AWeber offers more education in email marketing than any service I've seen online. Through different help videos in each area of your account, and Launchpad – a place with resources to get you started with AWeber and your email marketing – you will learn everything you need to learn to make your email marketing efforts successful.
In the Launchpad, they have a section for beginners, intermediate email marketers, and advanced email marketers, so you can walk through the whole platform to learn everything you need to get going and have success. You'll learn things like how to split test your web forms, optimize your call to action, why and how to write an email course, how to use popup and lightbox forms, move past email marketing obstacles, what you shouldn't do with your email marketing, whether to use HTML or plain text in your emails, and so much more.
I would dedicate a weekend to learning how to use AWeber before you send out your first email. When you armed with the most information on how to make the most out of your email marketing, you are going to have much more success!
They also offer free, live email marketing webinars. These webinars are just another aspect that will help you make AWeber work for you, and you will learn how to set up your list, create a welcome message, and create a sign-up form. Plus, there is a free, live Q & A session after the webinar so that you can ask any questions you need to ask. The webinar is daily from 3-3:30 pm ET.
AWeber Compared To MailChimp
I liked MailChimp, but AWeber just offers a better platform all around. The only thing I find harder on AWeber is starting out. On MailChimp, it is pretty straightforward to use for the easy stuff, so I was up and running within a day. With AWeber, I had to educate myself with all of their how-to videos and guides first, but then it was easy going after that.
It is true that you don't have to pay for sending emails until you reach 500 subscribers with MailChimp; however, you cannot set up an automated workflow unless you pay, which is the whole point of making your life easier when you are gaining leads. I remember sending out a free eBook manually to each person who subscribed to my list in MailChimp, and that was painful. I eventually had to pay to get that process automated.
SEMrush Review: Only Internet Marketers Will Like This Tool
MailChimp is cheaper, by a little, but AWeber offers more than MailChimp. What stands out in AWeber to me is this:
– Better email templates to choose from. I also find it easier to use the templates in AWeber.
– Help getting started with more complicated stuff is better on AWeber. I had to figure out a lot of the more complicated stuff on my own on MailChimp, and I spent a lot of time looking for answers.
– Better statistics. On both email marketing services, you can see who opens and clicks in your emails, but you can also see the traffic and sales that AWeber emails make.
– On AWeber, you can see exactly where your subscribers signed up from, which I couldn't do on MailChimp.
– The sign-up form creation on AWeber kicks MailChimp's ass. You cannot create forms that look good on MailChimp, period. I had to get plugins to help me make my optin forms look decent. But AWeber has professional and enticing sign-up forms.
Also, the dashboard is better designed in AWeber. In the dashboard of MailChimp, you see recently sent campaigns with the stats, list growth, top 5 campaigns, and recent activity in your lists including subscribers and unsubscribers. In AWeber, you can switch between lists easily using the 'current list' dropdown box at the top, and you can look at your subscriber stats, schedules broadcasts, recently sent broadcasts, and lists stats. I know you have to see it to understand it fully, but AWeber just feels cleaner and more professional. It's easier to find what you are looking for too, including List IDs and other information about your lists, reports, signup forms, subscribers, and messages.
If you are currently in MailChimp, AWeber has a guide on how to move your list over. It's not super easy to do, as it takes a little time and isn't automated, but it's not really that hard.
Pricing For AWeber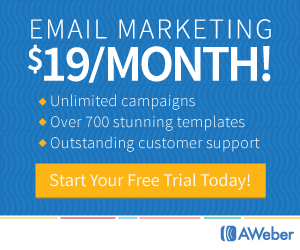 As said, you can get a free trial for 30 days and then pay $19 a month if have not reached 500 subscribers. But, if you go over 500 subscribers, then the prices increase. The good news is that it doesn't matter if you have 1 subscriber or over 25,000 subscribers, you get access to all of the features available!
If you are forecasting that you are going to do amazing with your list, then following is a quick breakdown of what you can expect to pay as your subscriber list grows as of this AWeber review.
– 501-2,500 subscribers costs $29 per month.
– 2,501-5,000 subscribers costs $49 per month.
– 5,001 to 10,000 subscribers costs $69 per month.
– 10,001 to 25,000 subscribers costs $149 per month.
If you go over the 25,000 mark, they require that you get a quote as of this AWeber review.
As you can see, the price jumps up quite a bit once you get to the 10,000 subscriber mark, but that's because you will be sending out a lot more emails and you should be making quite a bit of money off your list if it is that big! That's another reason to get the guides on building up your list and doing email marketing right – it will help you earn more than enough to justify the prices that you are paying.
Should You Try AWeber?
If you are serious about email marketing and creating a successful business, then I highly recommend AWeber. It gives you everything you need to create successful signup forms, send attractive and successful emails, and increase your conversions with the people who have signed up to stay in touch with your business, blog, or yourself.
But, I do recommend you take a few days to go through all the tutorials and training guides. Since you get 30 days for free, a few days to do this will help you figure out how powerful AWeber is and whether or not you want to make use of that power for your business.
Long Tail Pro Review: The Last Keyword Tool You'll Ever Need?
I have a feeling you will appreciate all the effort AWeber has put into helping you make your email marketing successful, and AWeber will be a tool that you find the most useful in all of your marketing efforts for your business. Give it a try!