Thrive Theme is user friendly

Every business owner or blogger dreams of having a catchy, professional-looking and user-friendly website that will entice others to click on it and learn more about what they have to offer them. However, if your website looks boring, takes too long to load, is set up in a way that doesn't grab your visitor's attention, or lacks a certain "oomph" that can draw people in, then you need to work on its aesthetics and functionality. That's where Thrive Themes comes in. They create conversion-focused WordPress themes that look great. In this Thrive Themes review, you will find out more about how this WordPress theme product is making it easy for you to create a fantastic and converting website even when you barely have any technical skills.
Thrive Themes Overview
If all you can handle right now is a drag-and-drop method in building a website, then Thrive Theme fits perfectly in your criteria. This is one of the most elegant and easiest to use WordPress website builder today, which makes it popular among newbies and professionals who want to create amazing websites from scratch.
To make it even better, Thrive Themes help boost your mailing list as it focuses on email conversions. A lot of testing can be put into where to put opt-in elements and how to use them for the best conversation possible, but with Thrive Themes, you don't have to test – you know. This is an excellent feature that business owners need for their website since it increases conversion and sales over time.
With Thrive Themes, you can choose from a wide range of well-made, sophisticated and professional designs that are ready to use. There is not much of a learning curve involved, and this makes it easy for beginners to get started in building an impressive website that best suits their needs and standards. Aside from mere aesthetics, you can be sure that your website makes it easy for your visitors to navigate on each page without getting lost in the muddled design or complicated buttons that can be a major turn-off to them.
Who Created Thrive Themes?
Shane Melaugh is the tech genius behind Thrive Themes. He is a University drop out, but not a failure by any definition. His talent is in Internet marketing, and he's created many different products and services all focused on online business and success. In fact, he is the same person who created Hybrid Connect plugin, along with his team. His goal was to improve on his initial creation, and he successfully did so by developing Thrive Themes. Moreover, Thrive Leads has taken the place of Hybrid Connect, as the former is packed with more functions and features that can double, triple, or even quadruple your sales in the long term.
Social Warfare Plugin Review: Do You Really Need This Plugin?
Thrive Themes Features
As mentioned in this Thrive Themes review, what's unique about Thrive Themes is the fact that it is geared towards helping businesses and bloggers improve their conversion rate. This means, you can get a better chance of increasing your customer base, which positively impacts your bottom line. After all, what good is it to have a catchy website when it barely draws enough people in to become customers?
Thus, the creator of Thrive Themes had this important purpose in mind during the design and development phases of the website builder with Thrive Themes. This has led to the creation of an intuitive, easy-to-use and fail-proof site builder that appeals to anyone who wants to have professional-looking website – even if they have zero tech skills or experience.
Below are among the features you can expect from Thrive Themes:
1. Built-In Components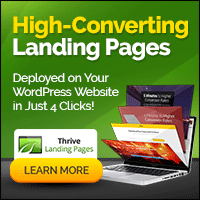 What makes Thrive Themes popular among users is the selection of built-in components that are essential in an effective website. So, you can have everything you require in a website builder without the hassles in loading numerous plugins.
Among these built-in features is the image optimizer that improves load time by minimizing the size of the image, icon library, opt-in forms, related posts, social sharing, and available Google fonts. Loading time is something that can make or break your website, which is why there are many plugins available for image compression, but Thrive Themes takes care of that from the inside, making all of their themes the fastest themes anywhere without having to do anything to them.
Furthermore, Thrive Themes are mobile-ready, so your website will look great whether your users view it on their laptop, computer, smartphone or tablet.
And, you can customize the themes to your brand or needs with over 600 fonts, customer colors for different page elements, and different header layouts to choose from.
2. Lead Generation
Just like other WordPress themes, you can choose from various themes for your website that will improve your customer base. Thrive Themes feature landing or lead generation pages that you need for your business website or blog. These pages include email confirmation, video sales, sales, landing and thank you pages. By incorporating these important pages to your website or blog, you can connect more to your customers and educate them even better about what you are trying to sell or feature.
For instance, having videos on your website gives visitors a clearer understanding of your products or services. These will also help establish trust as users realize that there is an actual person behind the business presented to them.
3. Exceptional Themes
There are several themes available to website builders, and these all help increase conversion rates, traffic and generate sales. Most importantly, these themes have been created to load fast, which is what users look for in websites or blogs. Nobody wants to spend more than a few seconds on a website nowadays, and if your site is taking too long to load, you could be losing a ton of visitors that had the potential to turn into customers.
The quick loading is made possible by the lightweight and simplified codes that ensure the themes' responsiveness and lightning fast loading time. Since these themes are optimized for search engines, you can expect these to be readable, attractive and modern-looking at the same time. What's more, these SEO-friendly themes increase traffic to your posts, which translates to higher returns on your investment.
The following are some interesting Thrive Themes that you can choose from.
a. Voice Theme
Bloggers who prefer a stunning, yet clean site will find the Voice Theme as a perfect match to their needs. This is a mobile-friendly and responsive theme with a vertical menu minus a header design for greater emphasis on the content. Key features included are automatic page generator, visual customizer, theme options panel and fast loading, among a few others.
SEMrush Review: Only Internet Marketers Will Like This Tool
b. Performag
If you want a magazine-style theme for your website, then the Performag is a suitable choice. You can create an elegant and contemporary magazine design that will hook visitors to your website. There are 6 color schemes available with a dark and light version for this theme. As with other Thrive themes, the Performag is optimized for search engine, loads quickly, fully responsive, and has email subscription option.
c. Rise Theme
Is your purpose for building a website directed towards online marketing? If so, then the Rise theme should help you meet your goals as it was built in collaboration with an affiliate marketer who knows a thing or two about online marketing and what visitors are swayed by and what affiliate marketers need. It features a remarkable landing page, grid-based blog portion, stunning home page, and email subscription option. You can also add more pages according to your needs.
d. Pressive Theme
Affiliate marketers, bloggers, and business owners will love this theme that features a professional layout. It is mobile responsive and comes with 6 color schemes to match the style you want. Changing the color of widgets and shortcodes is also quite simple, and there are other important features included such as the customizable headers, theme options panel, catchy grid layout and visual customizer.
e. Squared Theme
The squared theme appeals to every online marketer who looks for a professional and powerful design loaded with features. The design is SEO-friendly, responsive and customizable. You can create attractive sales pages and landing pages with this theme, plus it comes with email opt-in feature for your online business.
Thrive Content Builder
Aside from Thrive Themes, you can take advantage of a functional plugin in enhancing your website called Thrive Content Builder. It offers a convenient and efficient means of incorporating content or editing previously added material to your posts. This means, aside from having a stylish editor that you can use in building a website, you can also add some details for an exceptional user experience. The numerous options available makes any website appear as though it was built by a professional.
To give you a better idea of what the Thrive Content Builder does, you can select a theme you prefer and make some tweaks to it based on your standards. For a beginner, this may sound like a lot of work, but this plugin lets anyone make this happen even without the help of a developer.
Grammarly Review: Do You Need This Editing Tool?
You will also like the fact that the Thrive Content Builder comes with a 'What You See Is What You Get' style editor. This means that what you are looking at as you create your content is what you are going to see when it is published. You don't have to constantly review what your changes look like in a 'preview' mode. All you need to do is to select elements you want, drag and position these to your website, and make any changes according to your standards.
You can build incredible homepage layouts that look professional and help your visitors figure out exactly where they want to go. You can also create interesting blog posts with content boxes, table of contents, review summaries, and more. You can add animated buttons and images to your blog posts to catch your visitor's attention. And, all of this is done with a drag and drop function using the Thrive Content Builder. And to top it all off, everything is fully responsive so that your mobile traffic converts just as well as your other traffic.
Thrive Content Builder: Getting Into Details
As mentioned previously, Thrive Themes is all about giving users a convenient and stress-free experience in building and designing a website. To make it even better, it works hand in hand with the Thrive Content Builder when purchased together that facilitates lead generation and sales. The content builder plugin is a 3-in-1 product. Here are some amazing features you can expect from it:
1. Wide Selection of Landing Pages
Thrive Content Builder has more than 100 impressive landing pages, so you are not restricted to a limited choice of design. Once you have selected one according to your preferred style, you can use it to create a web page. For added convenience and ease, you can do this in WordPress while customizing and making any tweaks necessary.
You can choose from different templates suitable to a landing page style that you want. Templates are available for creating sales pages, welcome pages, email confirmation or thank you pages, lead pages, video sales and download pages. This allows you to match these landing pages according to the theme or motif of your website, so you can create a unified design that further enhances the overall appeal.
2. No More Guesswork
Another important feature of the Thrive Content Builder is the live viewing of the content as you are creating it. If you add or remove content, you will be able to see how it affects your website at the very moment you perform these actions. No need to preview anything in another window. This is an important feature since there is no need to guess or make assumptions that may only take you farther from the design you want. It saves time and remove headaches from building your content. Each time you add elements, you can instantly view it and make some adjustments as needed knowing that what you see is what you will get.
3. Event Management and Popups
With Thrive Content Builder, you will be able to add popups to buttons, links, and images. You can even get optins no matter which page on your website your users are. Interestingly, there is an option to use Exit Popups, and this opens before the user leaves and visits another page. There is also a component that lets you view the Page Event Manager.
4. Cool Animation
You can customize the style you want for your popups when it comes to how these appear on the page. Triggers for the animation include mouseover, click and scrolling down the page to cause the element to appear. It is also possible to have any buttons such as your calls to action animate in an interesting way, and you can have the opt-in form appear when the site visitor reaches the bottom portion of the page.
5. Works With Any Language
Thrive Content Builder is not limited to English. You can use this plugin on any site in any area of the world with any language that you speak.
Cost


This Thrive Themes review is looking at everything in a bundle. It's the most cost-efficient and useful way to use Thrive Themes. So, to get unlimited access to all plugins and themes, then you should go for a full membership. As of this Thrive Themes review, the prices are $19 per month for a complete Thrive membership (paid annually at $228) or $25 a month (paid quarterly at $75).
You can also buy an agency membership if you have clients that would benefit from Thrive's themes and plugins. You can use the themes and plugins for yourself as well as your clients for $49 per month (paid annually at $588) or $59 per month (paid quarterly at $177).
Long Tail Pro Review: The Last Keyword Tool You'll Ever Need?
Your membership is valid for only one year, and this entitles you to a full suite of products. Members get access to all WordPress themes that are fast and full of conversion features, Thrive content builder, Thrive landing pages, Thrive leads plugin for opt-ins and Thrive clever widgets. If you let the period lapse and decide not to renew your membership, you can still access products such as the builder, leads, and themes, yet you will miss out on any upgrades.
In case you want to purchase each product separately, you may also do so.
– Thrive themes cost $49 per piece for use on one site and $67 per piece for use on unlimited sites, plus you get access to unlimited free updates and free support for 1 year.
– Thrive leads cost $67 for use on one site, $97 for unlimited sites, and $49 per month (paid annually at $588) for an agency license.
– Thrive content builder costs $67 for use on one site, $97 for use on unlimited sites, and $49 per month (paid annually at $588) for an agency license.
– And if you just want to get the landing pages, you will pay the same price as the content builder as of this Thrive Themes review.
But, I highly suggest getting them together if you are serious about making money or having any type of success with your website. With Thrive Themes and Thrive Content Builder, you can count on quality templates for landing pages, lead boxes and website designs. All products or themes also have fast loading times, and it is easy to use the drag-and-drop feature for beginners and experts alike. Lastly, you can count on a friendly and responsive support team that will assist you with any concerns you may have about these products.
Benefits of Thrive Themes
The following are some of the benefits you can get from using Thrive Themes:
– Enjoy the hassle-free and convenient experience of building a website with elements that have drag-and-drop features.
– Impress your site visitors with the fast-loading time of Thrive themes and get more conversions.
– Select from a wide range of user-friendly, attractive and professional themes for your blog or business.
– Get up-to-date plugins and themes for enhanced functionality and aesthetic and functional appeal.
– You can customize each post and page using the front end editor. You can also see instantly any changes made, which eliminates the guesswork in editing pages.
– You get quick access to the support team no matter what time of the day or night you may be encountering some issues using the product.
Limitations of Thrive Themes
Perhaps a few limitations of Thrive Themes is it is only applicable for use in WordPress, and it may be a bit tougher to add some elements to your old pages. Nevertheless, with easy to use features, you will find this website builder a must-have for a quick and stress-free way of creating and designing websites that will yield returns on your investment.
Is Thrive Themes For You?
Overall, Thrive Themes offers amazing and functional themes, as well as a brilliant WordPress website builder with drag-and-drop features and loads of additional components to enhance any site's functionality. Thrive Themes focus is on creating effective websites that convert visits to sales, which is probably your focus too – or at least it should be! You can cut down on the amount of plugins that you need to purchase, since Thrive Themes includes the plugins that speed up your site, make social sharing easy, optimize images, show related posts, and much more. Lastly, since it focuses on boosting sales and conversions, you can generate more profits, which means your online career can grow.
Grammarly Review: Do You Need This Editing Tool?
If you are worried that all of this might be too much for you, then you need to know that Thrive Themes offers training and tutorials along with their support. Even though the themes and plugins are easy to use, you may need to find an answer if you come across an issue with one of the products, and you can find the answer quickly through the tutorials or the staff that are friendly and waiting to help you out. You can also learn how to build a successful website through the webinars that Thrive Themes holds.
The bottom line is that Thrive Themes makes Internet marketing and online business easier. Beautiful and functional themes combined with plugins that promote aesthetics, speed, and conversations, make this one of the best theme services online today in my opinion. It is definitely for you if you want to use the best!


Related Posts or You May Also Like:
11 Facts On How To Save A Marriage That You Need To Know
9 Causes Of Marriage Problems That Are Fixable
11 Things Good Men Wish Women Knew About Being Single And Looking
10 Ways A Can Do Attitude Can Mend Your Broken Heart Quicker
The Science of Getting Rich – A Book Review
Social Warfare Plugin Review: Do You Really Need This Plugin?